Yuho HIRAMATSU   日本語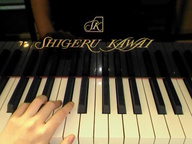 My major performances since 2000 are as follows;
'00 1st prize at PTNA(The Piano Teachers' National Association of Japan, Incorporated by the Japanese Government)Piano competition (concerto senior).
'01 Played Chopin Piano concerto No.1 with I Solisti Ibaraki.
'02 Entered in Tokyo College Of Music piano performer's course.
on special scholarship.
'05 1st prize at Kazusa Akademia music competition.
'05 Special award for excellent student of arts by JASSO.(Japan Student Services Organization)
'06 Participated in 11th Hamamatsu International Piano Academy.
'06 Entered in Tokyo College Of Music Graduate course.
'06 Solo performance in concert by the Japan Foundation
'06 Played Mozart Piano concerto No.20 with New philharmonic
orchestra Chiba conducted by Kazumasa Watanabe.
'06 Prized in Kazuko Yasukawa memorial piano competition.
'06 Grand Prix for Kitamoto piano competition.
'07 Played Chopin Piano concerto No.1 with Tokyo
Philharmonic Orchestra conducted by Yukio Kitahara.
'08 1st prize at Concert Marronnier21 competition in Tochigi Prefecture
'08 play Tchaikovsky Piano Concerto No.1 with Nasu philharmonic
orchestra conducted by Yasuo Watanabe.
'08 Will Play Grieg Piano concerto with Tochigi symphony orchestra and Gross Vogel Philharmoniker.
I have learned under professor Mieko Harimoto and Hitoko Kurasawa since I entered in Tokyo College Of Music.
I have taken many lessons with international professors. For example, Karl Heinze Kaemmerlng, Elisso Virsaladze, Cecile Ousset, Stefano Fiussi, Hiroko Nakamura, Konrad Richter, Victor Makarov, Matti Raekallio, Krzysztof Jablonski, Alexander Satz,,etc..